Woohoo am I excited!!!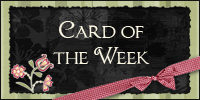 My "Dream Wishes" card was selected as one of this week's Top Trio cards over at
365 Cards
! In case you missed my card, here it is again.
You can read all about it on my post for 1/20/10. I am so super excited to have been chosen!!! Thank you!
{Scroll down for today's artwork post... It may not rock the house like this one, but it's still pretty darn cute, if my humble self does say so!}